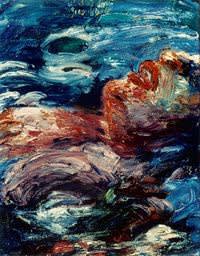 The element of water whether literally or referentially, often appears in my work. Until recently, this was not a conscious decision, rather an intuitive response to the needs of the painting itself, as in 'Lovers in Water'. 1986. Oil on canvas. 45x38cm
This changed with the passing of my mother two years ago. In the void, I found spiritual solace looking at skies and water. I began to paint and draw directly referencing the source of my musings.
Yearning for social contact denied by the pandemic, my relationship to nature became even deeper and I began to look for ways in which I could express a primal connection to fundamental elements.